Main content
Riviere Hotel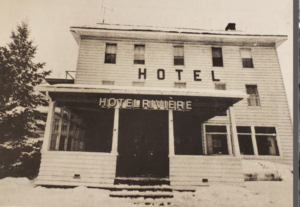 You will begin to notice preparatory work being conducted at the site of the former Riviere Hotel on South River Street. The Village owns this property and are in the process of demolishing the existing structure. At this time site work is in progress preparing for the asbestos abatement phase of this project. Catamount environmental Inc. is the vendor who will begin asbestos abatement in the building starting on Monday March 6th. It is anticipated that this work will be completed by March 13th.
This project has been funded in part by a grant from the Northwest Regional Planning Commission's Brownfield Cleanup Revolving Loan Fund and the US Environmental Protection Agency.
You will also be seeing fencing and other construction materials being placed on site by the Demolition Contractor, Complete Demolition Service LLC. The demolition work is expected to begin at some point in April.
Prior to the actual demolition the Village of Swanton will keep the community informed of the actual demolition date and work to minimize the impact on traffic and the neighboring citizens. The Village of Swanton will be providing traffic control during the demolition phase and will be working with adjacent homeowners to ensure that everyone is safe and that we are communicating effectively.